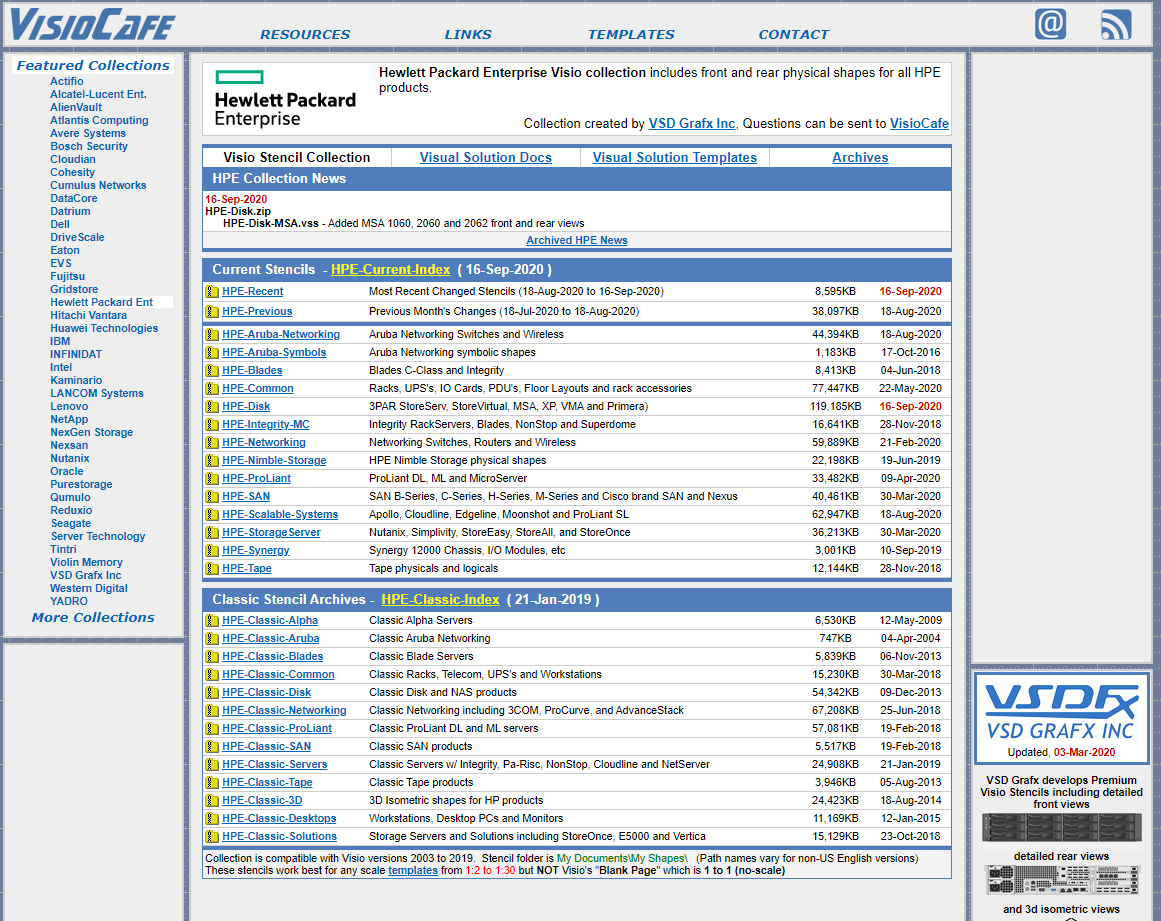 Support for The Hewlett Packard Enterprise Sea of Sensors which is a collection of 32 sensors that automatically track thermal activity - heat - across the server. When temperatures get too high, sensors can kick on fans and make other adjustments to reduce.
| | | | |
| --- | --- | --- | --- |
| RESOURCES | LINKS | TEMPLATES | CONTACT |

Featured Collections

Actifio
Alcatel-Lucent Ent.
AlienVault
Atlantis Computing
Avere Systems
Bosch Security
Cloudian
Cohesity
Cumulus Networks
DataCore
Datrium
Dell
DriveScale
Eaton
EVS
Fujitsu
Gridstore
Hewlett Packard Ent
Hitachi Vantara
Huawei Technologies
IBM
INFINIDAT
Intel
Kaminario
LANCOM Systems
Lenovo
NetApp
NexGen Storage
Nexsan
Nutanix
Oracle
Purestorage
Qumulo
Reduxio
Seagate
Server Technology
Tintri
Violin Memory
VSD Grafx Inc
Western Digital
YADRO

More Collections

Hewlett Packard Enterprise Visio collection includes front and rear physical shapes as well as 'logical' shapes which are used for detailed design drawings.

Collection created by VSD Grafx Inc, Questions can be sent to VisioCafe

Visio Stencil Collection
Visual Solution Docs
Visual Solution Templates
Archives

ProLiant Servers
VSD-ProLiants-Current
All Current model ProLiant VSD Documents
21-Mar-2017
ProLiant BL Family
VSD-BLcServers
ProLiant c-Class Blade Servers
28-Mar-2017
ProLiant DL Family
VSD-Family-ProLiant-DL
ProLiant DL Server Family
21-Mar-2017
VSD-DL20Gen9
ProLiant DL20 Gen9 Server
21-Mar-2017
VSD-DL60Gen9
ProLiant DL60 Gen9 Server
21-Mar-2017
VSD-DL80Gen9
ProLiant DL80 Gen9 Server
21-Mar-2017
VSD-DL120Gen9
ProLiant DL120 Gen9 Server
21-Mar-2017
VSD-DL160Gen8
ProLiant DL160 Gen8 Server
08-Oct-2015
VSD-DL160Gen9
ProLiant DL160 Gen9 Server
21-Mar-2017
VSD-DL180Gen9
ProLiant DL180 Gen9 Server
21-Mar-2017
VSD-DL320eGen8
ProLiant DL320e Gen8 Server
08-Oct-2015
VSD-DL320eGen8v2
ProLiant DL320e Gen8 v2 Server
08-Oct-2015
VSD-DL360Gen9
ProLiant DL360 Gen9 Server
21-Mar-2017
VSD-DL360eGen8
ProLiant DL360e Gen8 Server
29-Nov-2014
VSD-DL360pGen8
ProLiant DL360p Gen8 Server
29-Nov-2014
VSD-DL380Gen9
ProLiant DL380 Gen9 Server
21-Mar-2017
VSD-DL380eGen8
ProLiant DL380e Gen8 Server
29-Nov-2014
VSD-DL380pGen8
ProLiant DL380p Gen8 Server
08-Oct-2015
VSD-DL385pGen8
ProLiant DL385p Gen8 Server
21-Mar-2017
VSD-DL560Gen8
ProLiant DL560 Gen8 Server
08-Oct-2015
VSD-DL560Gen9
ProLiant DL560 Gen9 Server
21-Mar-2017
VSD-DL580Gen8
ProLiant DL580 Gen8 Server
08-Oct-2015
VSD-DL580Gen9
ProLiant DL580 Gen9 Server
21-Mar-2017
ProLiant MicroServer Family
VSD-MicroServer
ProLiant MicroServer
18-Mar-2013
VSD-MicroServerGen8
ProLiant MicroServer Gen8
29-Nov-2014
ProLiant ML Family
VSD-Family-ProLiant-ML
ProLiant ML Server Family
21-Mar-2017
VSD-ML10
ProLiant ML10 Server
29-Nov-2014
VSD-ML10v2
ProLiant ML10v2 Server
08-Oct-2015
VSD-ML10Gen9
ProLiant ML10 Gen9 Server
21-Mar-2017
VSD-ML30Gen9
ProLiant ML30 Gen9 Server
21-Mar-2017
VSD-ML110Gen9
ProLiant ML10v2 Server
21-Mar-2017
VSD-ML150Gen9
ProLiant ML150 Gen9 Server
21-Mar-2017
VSD-ML310eGen8
ProLiant ML310e Gen8 Server
29-Nov-2014
VSD-ML310eGen8v2
ProLiant ML310e Gen8 v2 Server
08-Oct-2015
VSD-ML350Gen9
ProLiant ML350 Gen9 Server
21-Mar-2017
VSD-ML350eGen8
ProLiant ML350e Gen8 Server
29-Nov-2014
VSD-ML350eGen8v2
ProLiant ML350e Gen8 v2 Server
29-Nov-2014
VSD-ML350pGen8
ProLiant ML350p Gen8 Server
29-Nov-2014
ProLiant Moonshot Family
VSD-Moonshot
ProLiant Moonshot
29-Nov-2014
ProLiant SL Family
VSD-SL2500
ProLiant SL2500 Server
29-Nov-2014
VSD-SL4540Gen8
ProLiant SL4540 Gen8 Server
29-Nov-2014
VSD-SL4545g7
ProLiant SL4545 G7 Server
29-Nov-2014
VSD-SL6500
ProLiant SL6500 Server
29-Nov-2014

Integrity Servers
VSD-rx1620
HP Integrity model rx1620 Server
1-Mar-06
VSD-rx26x0
HP Integrity model rx2620 and rx2660 Servers
1-Mar-06
VSD-rx3600
HP Integrity model rx3600 Server
2-Sep-08
VSD-rx4640
HP Integrity model rx4640 Server
1-Mar-06
VSD-rx6600
HP Integrity model rx6600 Server
2-Sep-08
VSD-rx76x0
HP Integrity model rx7620 and rx7640 Servers
2-Sep-08
VSD-rx86x0
HP Integrity model rx8620 and rx8640 Servers
2-Sep-08

Storage
VSD-EVA
HP EVA 4000, 6000, and 8000 Arrays
27-Mar-06
VSD-MSA
HP MSA1510i, 1500cs, 1000, and 500 Arrays
27-Mar-06

Copyright© VSD Grafx Inc. All Rights Reserved. Privacy Policy
Microsoft and Visio are registered trademarks of Microsoft Corporation.
All other product names mentioned herein may be trademarks of their respective companies.


Updated,

03-Mar-2020

VSD Grafx develops Premium Visio Stencils including detailed front views

detailed rear views

and 3d isometric views
'I just wanted to say that I really appreciate these network stencils being available - for free! You make my job easier!'
'I use Visio stencils from multiple vendors and Cisco's (from Visimation) are always the most detailed, I really appreciate the effort!'
- H. H., Cox Communications
ShapeSource by Visimation is the No. 1 place for Microsoft Visio stencils, shapes, templates and add-ons. We cover a broad range of Visio drawings types for manufacturing, network equipment, maps, agriculture, oil and gas, energy, security systems, photography and many other uses. For major equipment manufacturers' Visio icons including Cisco, Juniper, Panduit, Alcatel Lucent, Leviton and more, please check the Manufacturers links on this page. You can also use the Search field at the upper right to find something specific.
If you are a manufacturer looking for the best resource to create Visio stencils of your products, please check Visimation's Services page for a description of our methods, features, and benefits of Visimation shape production. We produce graphics that will reflect the quality of your products in appearance and smart behaviors.
Our technical graphics and vector clipart are developed in Visio and can also be used in other popular drawing programs:
Visiocafe Hpe 3par
Microsoft® Visio® Microsoft® PowerPoint® Microsoft® Word® Microsoft® MapPoint®
OmniGraffle® for Mac Adobe® Illustrator CorelDraw® ... and more!
NOTE: Click herefor special instructions on using our stencils with Visio 2013 and 2016
Recent Stencil Updates and Additions:
Cisco ASR 9000 1/1/19
Cisco Catalyst 9000 4/26/19
Cisco ASR ISR 4000 4/29/19
Cisco ASR IE 3x00 Rugged 5/10/19
Cisco ASR NCS 5500 5/22/19
Cisco UCS 7/6/19
Cisco ASR 920 7/6/19
Cisco ASR vEdge 50007/6/19
Cisco ASR UCS7/6/19
Ruckus Wireless Miscellaneous 11/6/19
Ruckus Wireless Outdoor Access Points 11/6/19
Panduit Wall-Mount Cabinets Top 11/6/19
Panduit Wall-Mount Cabinets Front 11/6/19
Panduit Wall-Mount Cabinets Right 11/6/19
Gigamon G-TAP 12/12/19
Juniper PTX Series 4/24/20
Juniper SRX Series 4/28/20
Belden DCX Cabinets 5/20/20
Great Lakes GLDRC - AWS Mini Racks 8/4/20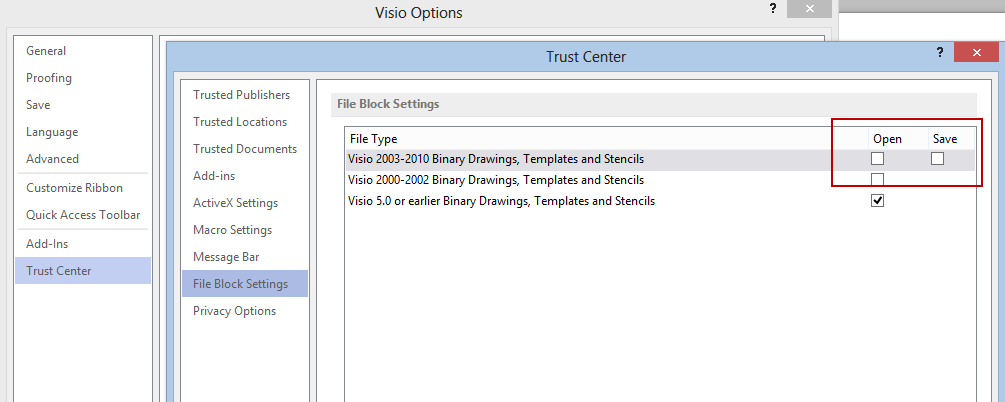 | | | |
| --- | --- | --- |
| ShapeSource is the best place to find Visio shapes and Visio stencils for a wide variety of professional drawings | Looking for great Visio templates? Start your drawings with ours - for Microsoft Visio 2016, and older versions. | Extend Visio features to ease and automate drawing tasks. Browse to find free and paid Visio add-ons available for free trial download |
Visio Cafe Hpd
Visimation Inc., 4580 Klahanie Drive SE, #225, Sammamish, WA 98029 ShapeSource by Visimation is your one-stop source for Visio stencils, Visio shapes and Visio templates. (630) 281 6464 8:30AM - 5:30PM (US Central Time) Contact Us [email protected]; Download Visio Stencils for QNAP Systems. The NetZoom Visio Stencils Library is the world's largest device library containing over 250,000 devices from over 5,000 equipment manufacturers. View the list stencils by equipment manufacturers. (view in My Videos) As part of our new program "Support Talks", we have developed a new set of sessions called "TAC Tools Explained". These sessions will walk you through the different support tools and their capabilities, features, and advantages.